Financing the Net Zero Economy
We are aligned with the target set by the Paris agreement, the EU Green Deal and the Cyprus Government for a Net Zero goal by 2050. This entails reducing its Scope 3 emissions through its supply chain (i.e. third party providers) and its financing activities, which also entails the alignment and commitment of its clients towards this goal.
BOC PCL has also recently become a member of the Partnership for Carbon Accounting Financials (PCAF) and estimated Financed Scope 3 GHG emissions derived from its loan portfolio based on PCAF standard and proxies.
As a Group we have estimated the Financed Scope 3 GHG emissions for approximately 88% of Gross Loans and advances portfolio which fall under the definitions of PCAF asset classes.
Financed Scope 3 GHG emissions (CO2e tonnes per year)
2022 Loan Portfolio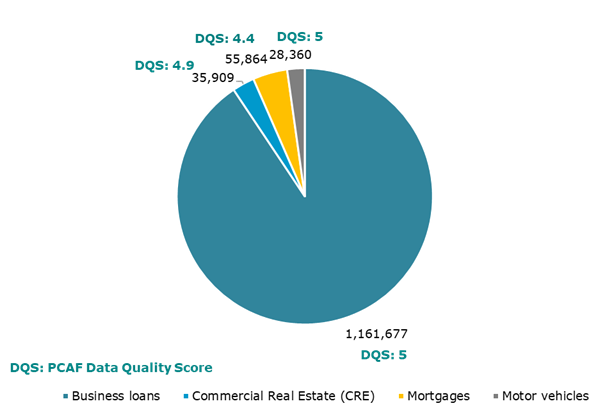 Decarbonisation targets
Mortgage portfolio

In 2023, as a Group we are expected to set decarbonisation target on our Mortgage portfolio due to the fact that 91% of building stock in Cyprus was built before the implementation of minimum energy performance requirements. Therefore, renovation of building stock in Cyprus is vital for reaching Net Zero by 2050. In 2023, the Group is expected to estimate the Financed Scope 3 GHG emissions per square meter financed in Cyprus and set a decarbonisation reduction target to 2030 using a 1.5°C climate scenario. The decarbonisation target will then inform the Group's strategy from 2023 onwards as it will impact the new mortgage lending strategy as well as the incorporation in the new lending strategy of the provision of finance for improvement in energy performance of residential buildings taking into account any government schemes.

Business Loan asset class

Given that the majority of Financed Scope 3 GHG emissions derive from Business Loan asset class, the carbon concentrated sectors under Business Loan asset class have been identified, based on PCAF definition, which are the primary sectors for setting decarbonisation targets. The Group has initiated the process to set decarbonisation targets aligned with a climate scenario for its loan portfolio in 2023. The primary sectors identified under Business Loan asset class are Accommodation and food service activities (12%), Construction (20%), Manufacturing (16%), Transportation and storage (24%) and Wholesale and retail trade (10%).
Supporting customer sustainability journey
As a means to enhance not only our climate risk framework but also our ability to identify future opportunities BOC PCL is in the process of introducing new ESG scorecards within its credit granting process which will allow it to more granularly identify ESG risks but at the same time it will open a communication line with its clients to better prepare them to comply with upcoming EU legislation on disclosure, such as the CSRD, which will eventually be reflected within the Group's own net-zero strategy by providing more accurate data and targets.

In BOC PCL we have approved a high-level Green Lending Policy based on the Green Loan Principles ('GLPs'), and our purpose is to provide the framework for the procedures and the requirements that will implement for the creation of 'green' loan products and ultimately the development of a green loan portfolio. The Green Lending Policy provides instructions regarding the information that BOC PCL should require from borrowers so to ascertain whether an application for a green loan product can be considered for approval and adopts an indicative list of eligible categories for green project financing.

In BOC PCL, under our existing Environmental and Social Policy we prohibit finance to certain sectors (thermal coal mining, coal-fired electricity generation, upstream oil exploration, upstream oil development) which are included in our 'Exclusion and Referral Sectors' list with negative environmental impact.

In BOC PCL we offer a range of environmentally friendly products to manage transition risk and help our customers become more sustainable.

Home renovation for energy upgrade

Photovoltaic and other systems

Looking forward, in 2023 as a Group we will continue to build out our green product offering further. We expect to discuss ESG and climate matters with our clients at the point of loan origination.

In the Group we have set up a Sustainable Finance Framework which will facilitate the issuance of Green, Social or Sustainable bonds. The proceeds from such bonds will be allocated to eligible activities and products as designated in the Sustainable Finance Framework.