Katia Santis
Chief Legal Officer & Group Company Secretary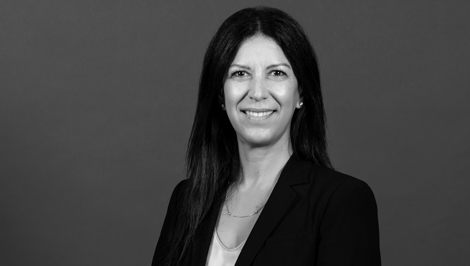 Katia is the Chief Legal Officer and Group Company Secretary at Bank of Cyprus since July and November 2014, respectively.
Prior to joining the Bank of Cyprus PLC, Katia was a Senior Recoveries Officer at Piraeus Bank (Cyprus) Ltd from November 2013 to June 2014. She was also a part-time lecturer of the University of Nicosia on Cyprus banking law.
Earlier, from March 2003 to June 2013 Katia worked as Manager of the Legal Unit (Banking Division) at the Cyprus Development Bank PCL, where she was initially hired as internal legal advicer in October 1991.
From January 2010 to June 2013 she also headed the Loans Administration Department, while from January 2012 to June 2013 she headed the Recoveries Department of the Cyprus Development Bank.
Katia holds an LL.B. from the University of Reading and is a Barrister-at-Law, as well as a member of Gray's Inn since 1989.
She is a member of the Cyprus Bar Association, and a member of the Bar of England and Wales.